Our Work
A Brief Summary of Our Priorities
We are committed to developing a long term plan based on extensive Research and Development carried out over the past 16 years.  In this plan we will be:
Working with

all

generations (and children yet unborn) to 'break the cycle' of involvement in crime
Utilising a unique and distinctive design developed largely 'in house' and based on sound theoretical models
Identifying potential that resides in communities and enabling it to flower to the fullest degree
Addressing the root causes of crime and imprisonment in a way that will have far-reaching and wide-ranging positive results in future years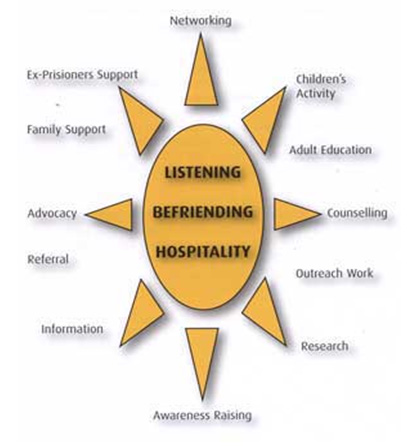 Who is Bedford Row for?
Bedford Row reaches out to families, and in particular children:
Who may present in school etc. as angry, fearful, anxious, aggressive, and/or in crisis
Whose development may be impaired by misuse of alcohol and/or drugs in their homes
Who may be bereaved by tragedy within their family or extended family, perhaps many times
Whose families have been affected by imprisonment for generations
Who are often isolated in their communities and whose vast potential might be wasted on destructive pursuits as they reach their teens
Why do we do it?
Bedford Row is motivated to do this because:
We are committed to supporting families of prisoners in a creative, inclusive, and boundaried manner
Our landmark research 'Voices of Families Affected by Imprisonment' (2008) pointed us in the direction of action in this regard  (See our Research link to read this)
We have had significant success in turning around the lives of people involved in crime and drugs who had struggled for many years
We are determined to build on this success
We believe that the solutions to these very challenging problems will come from people most affected who are passionate, intelligent, and motivated in the long term
How do we achieve this?
A wide variety of Support Work is ongoing:
For senior generations so they can be a fount of wisdom and experience within their family
For parents who may have experienced difficult times themselves and are worried about their children and teenagers, to appreciate what children are experiencing so they can parent in a constructive and nurturing way
For children and teenagers who are at risk of dropping out, or have already dropped out of mainstream supports in society
For ex-prisoners who are motivated to embrace their responsibilities with respect to parenting, family life, employment etc.
By offering……………………………..
Assistance with difficult emotions such as guilt, shame and anger and learning to deal with anger so that it does not get in the way of positive experiences
Who Works in Bedford Row?
The Bedford Row Worker or Volunteer, typically is:
Highly motivated and wants to do something positive for their community, and Limerick in general
Generous spirited, energetic, and likes a bit of hard work!
Curious, and open to new learning, listening, and observing, and
Committed to creativity, inclusiveness, and boundedness
And most of all……………….
Concerned that many initiatives in this area struggle to reach those who are most in need of intervention
If you would like to be involved in this exciting work you can contact us:
Tel:         061 315332          Web:     www.bedfordrow.ie       E-Mail: info@bedfordrow.ie
 "The real voyage of discovery consists, not in seeking new landscapes, but in seeing with new eyes"
Marcel Proust
Our principal areas of work can be summarised under the following headings.  Far more detail will be given on request which you can do through our website or email info@bedfordrow.ie 
1 Hospitality at Limerick Prison
Bedford Row staff are in attendance in the waiting area of Limerick Prison during all visiting times.  We offer refreshments, play materials to children, provide information leaflets and reading materials and aim to create and to maintain a relaxed and friendly atmosphere.
 'To the world you might be one person;
To one person you might be the world'
2 Education
Education in Bedford Row is aimed at having a 'multiplier effect'.  Over the past number of years skills have spread out into communities, and similarly, expertise and experience has been generously returned to the Project in spades!
We are committed to ensuring that all our educational endeavours are 'two-way', where, through formal and non-formal learning, staff learn from people who come in looking for help and vice versa.
(See also the Training link on our website)
3 Response to Children's Needs
Much research has pointed to the special needs of children of prisoners.  The loss of a parent or very close relative, through imprisonment, has the potential to cause a lot of harm.
Working with children is a vital part of the support that we offer families of prisoners.
Much of our efforts in this respect involves ensuring that children of prisoners, (including infants yet unborn) grow up in a safe and nurturing environment both in their homes and in their communities. In engaging with great-grandparents and grandparents this work is 'indirect'.  With parents and children it is 'direct'.
4 Support and Counselling
Counselling is available in Bedford Row for people who feel that they will benefit from it.  This is tailor made for the focus group and is highly valued by all who participate.
We also offer diverse forms of healing and other support by various practitioners on request.
On one day a week a children's play therapist is in attendance.  Many children and parents have benefited and are continuing to benefit greatly from this service.
5 Information, Referral, Advocacy
Our Information Officer is a fount of information about every service available in Limerick and surrounding areas.
A lot of Bedford Row work is concerned with advocating on people's behalf to access services.  We are grateful to all the Prisons in Ireland where our queries are invariably met with courtesy and due consideration, and to many other statutory and voluntary agencies that deal with homelessness, social welfare, payments, addiction, child welfare, education and a host of issues that are the day to day concerns of the focus group.
 'There are no words to express the abyss between isolation and having one ally'    (G. K. Chesterton).
6 Raising Public Awareness
There are not that many specialist agencies working with families of prisoners and it is the responsibility of Bedford Row to promote solutions to sometimes very difficult problems among the public at large but in particular our peers who work in this area.
There is vast potential and talent within the focus group and allied to this is a strong motivation that an intelligent and perceptive agency can tap into to ease the distress that families inevitably feel when a member goes to prison.
7 Research
Our landmark research is available on our Research link on this website.  This is entitled 'Voices of Families Affected by Imprisonment'. We are very grateful to all who contributed to this study for being open and honest in their accounts of the effects of imprisonment and are inspired by their courage to follow through with work that alleviate the distress of families of prisoners.
The findings of this Research have been used as a springboard for development of a variety of activities in the Project since publication in 2008.
(See also our 'Evaluations' link)
8 Re-integration of People Who Have Been in Prison
"You wanna go straight, but something inside keeps pulling you back towards the prison gate".  (20 year old who left prison)
"I was lucky to meet a man that gave me a chance; took me on and trained me. I never looked back".  (Limerick man who spent time in prison)
Bedford Row has always met with prisoners and ex-prisoners but now we have the happy situation that a 'Family Link' Social Worker is dedicated to developing this important role.  This is a major element of the integrated package that we aim to offer children affected by imprisonment – encouraging the member in prison to be responsible in the context of a loving relationship within his/her family.