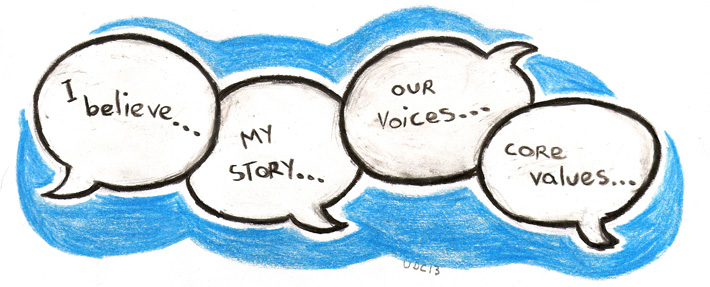 Chapter Three of our Research Report (See Research) contains many personal statements which shape our response to issues regarding imprisonment.
Here are some others:
Why Judge Me
"I imagined that everybody was looking at me … I gave up all the activities in which I was involved, which were mainly Church related. Fortunately our clergy were not prejudiced and it was not long until they had me back in the mainstream again. However I felt that many people were talking about me and saying what a nerve I had to remain in the public eye.  I had a couple of bad experiences brought on by neighbours who should have known better"
"A deputation wanted to have me out of my house because of my nephew's anti-social behaviour.  It cut me to the heart.  Thankfully this is all now a bad memory but the stigma remains. In the public eye I am the aunt of somebody who was an inmate of the county jail. It does not matter that all the family including the one-time criminal are now law abiding.  Such is the attitude of our upright citizens – but I do not harbour any ill will towards them"
A Mother's Nightmare
"When I was told my son was gone to prison my worst nightmare happened. All my family and friends felt sorry for me but none of them had gone through anything like this. I hope they never will!"
"Oh the pain in my heart!, the lonely hurt feeling! I could not go to see my son, as I was terrified of prison and what I might see. I felt so guilty I started to drink more and more. I couldn't sleep. All my family were hurting – my partner, my children, grandchildren – all our lives were so different"
"Time went by. A friend told me about Bedford Row Family Project. I phoned the centre and called the next day. I felt terrified but I had to go for the sake of my family and my self. But when I met the staff and other parents I felt wanted and understood and accepted. It was great!"
"Little did I know when I was telling my story that some of them had been going through the same thing for years and now they were supporting others"
"What my son did was wrong and he knows it. But I still love him"
Mixed Emotions
"I have a son who is doing life in prison. I didn't talk much about it to his sisters and brothers because deep down I was torn apart and so were they"
"We were all blaming ourselves for what happened"
"We were angry, disappointed, embarrassed and ashamed more for ourselves than him because none of us in our hearts wanted to believe it happened, so we each took it in our heads that maybe we could have stopped what happened on that horrible night"
"Deep down each one of us knows he was a lovely, witty, funny boy and wouldn't hurt anyone, and at the same time we were bitter with him. But we still love him very much"
A Parent Reflects
"I'm not saying that if you do wrong you don't have to suffer the consequences, but I think if the parents were given the skills to deal with their child when this (getting into trouble) happens it would save them a lot of heartache"
"I'd say it goes back as a far as the school, recognising the kids that have learning disabilities and not putting them all into the one room. Not every child is academically inclined. They need to put a lot more structures in our schools as well – education to suit the child"
"You need the support of the family, the community, the schools, the guards. You need every bit of support you can get"
Ripple Effect
"From the day my son was sentenced, it impacted on the whole family. First of all twenty-four hours after it appeared on the paper that my son had been sentenced to seven years I was told that I should take early voluntary retirement. My whole family from then on suffered in that another son went for a simple old security job on a building site and the Guards pulled up and called the foreman and they asked him if he realised that one of the young fellas that he had on security was the brother of a prisoner. Two of my daughters applied for reasonably good jobs and they were asked if they or any of the family had ever been in trouble with the law and if they ever had a prison sentence.  From the day the judge sentenced him the ripples went out to the whole family"
Children Have Needs Too……..
"When someone dies there is a bereavement counsellor. My children's father went to prison, and there was nothing thought of it. They're expected to cope but it's very hard. I have two school going children. They're lucky – the teachers know about their father and they're supportive but they haven't any training to help kids for this situation… The kids are trying to hide it from their friends. But it is splashed all over the papers. It's been thrown in their faces"
"I have no training, I'm just an ordinary mother, but I'm trying my best now for my children and other children that have people in prison, to get something going, where they can talk and relate to other children who have someone in prison. You have to sit down and try to explain to your children what's going on. You have to make it up as you go along so you're not hurting them. What do you tell a five year old? You tell them their Dad is in the army but they hear it down the street. So you are better off telling them the truth"
 Through the Eyes of a Child
"My Dad was gone away when I was very young and I would ask my aunt time and time again where he was. She'd say 'he's just working'. Now that I am older I do know where he was. My heart broke in two. I was really upset because he is really a person who understands you. I missed that I could not see my Dad for a long time and couldn't do the fun things like going to the park or watching a film and having a laugh. It's not nice not knowing where your Dad is because you don't know if they're coming back. It's great now that he is back and we can do the fun things we used to do"
Exposure
"Then I had an instance when the media followed me, followed me with a camera to take my photo. What did my children do to deserve that?  I had to take them out of school because they were being bullied.  He's sitting down in the prison and I have to tell him. What if I didn't tell him that and he picked it up inside, in the prison, and did something to himself? I'd have that guilt for the rest of my life.  It's not the camera man's child, nor his sister nor his mother. Everybody in Limerick knew my face. I couldn't go out for a week. I was ashamed"
A Sister's Cry For Help
"My brother has a behavioural disorder and attention deficiency. From an early age he missed out on education because no school had facilities for him. He ended up in front of the courts at eleven"
"We got great support for twelve months because he was on probation. As he got older he ended up in front of the court for a major crime. That was terrifying to our family because we never experienced anything like it. When I went down into the court ….. I felt sick. I felt that I was being judged. My parents felt they were being judged"
"He has no school; he has no support from anybody.  We were a month looking for a probation officer. We had to go to the Health Board to send a letter to a probation officer"
"He is 16 now and the road that he is on is going to end in St. Patrick's Institution. He's going to go there, with no education. He can't read. How can he survive? I don't make excuses for his offending but he needs support. There was something there for him"
"From the time he gets up in the morning until he goes to bed at night he has nothing"
 Too Late
"The years apart have made a normal (whatever that is) parent-child relationship virtually impossible. The truth is that she has got by without me for so long that she doesn't need me now. I know that hurts her and it hurts me also. It seems like the harder I try to bond with her the more pathetic I become in her eyes – even though she loves me and I love her. It is just a case of 'too little too late"
"Her life does not include me because mine did not include her – imprisonment dealt me my just rewards but the impact it had on the people I love and cherish was something I had never taken into consideration – not until I lost them all"
 Give Us a Chance
"I was in and out of jail for nine years. I realised I'd had enough of this as it was getting me nowhere. I met this girl when I was out and she became pregnant.  It hit me then that I had to do something with my life.  I went to an Action Centre to see if they could help me on the right track. What had I to put on the C.V. only that I delivered coal and milk which happened before I got locked up?  So now I was on the road to nowhere.  I went to factories, building sites and where ever I thought I would get work but to no avail.
In other words I got nowhere so I decided to ask a few lads that were working to keep an ear open for me. In between I did a FÁS scheme for 12 months. That gave me more determination to get a proper job. It gave me self-esteem to be doing something better with my life.  When I got my first wage packet it felt great and I said to myself: 'I should have been working years ago'.  Now I am still at the same job for over eight years.  My advice to people like me would be to keep trying, never give in and get a good education if you can.  People in the same situation that I was in should be given a chance to prove themselves"
Poetry
Prison
He lies within his concrete tomb,
Buried in the system's womb,
A nameless face to his guard,
Just a number on a card.
Lock him up. Break his pride.
Smash his spirit deep inside.
Separate him from his sect.
Convert his hate to respect.
Torment him in his concrete cage,
Then pacify his violent rage.
Break his barriers if you can,
Smash the wall around the man.
Show compassion when he's sad,
And big hard policy when he's bad.
Treat him as you would a child,
When his aggression gets too wild.
Ignore his complaints of abuse,
Confrontation is no use.
To build your bridges to his brain.
His confidence you will have to gain.
But your attitudes are all take.
My pride, my spirit you'll never break.
Inside Out
It's true to say I took my chance
And yes I paid the price
What I never knew from in to out
Is that I would pay twice
And three and four and five and six
And many times the score
From friends to family and everything
Result, a closed out door
Onto the point where it might seem
Softer to go back
To all the things I can rely on
Off the beaten track.
Never a Good Time to Do Time
I am sorry Mam I was not at your side
That was the biggest consequence
Of my being inside.
I was sorry then and I am sorry today
But you always take my guilt away
I was blind then but now I see
My dirty past
And uncertain future
We joked in jail
For ye it must have been hell
Now I want to give my all
For us to have a different future
What really makes it worthwhile is
Knowing you're watching over us up there.
(Man whose mother died while he was in prison.)
The Monster
From the age of twelve along came a monster and ate up my dream.
I was ducking and diving, running and hiding
This monster was finding
A place for me that I can't escape,
Please God, any chance of giving me a break?
Before that monster my life was alright,
Not a bother in the world, I could do as I liked.
I drank (and smoked) a lot younger than most
Money was a problem and I wasn't getting a job,
Time to start robbing, live up to the mob.
Before I knew it I had money and clothes,
Birds was an option I definitely chose,
Fourteen years of age and living the life,
Till the big guys stepped in and handed me a knife,
Time for the fun to be gone, the Monster is here and I don't know for how long.
I got sentenced – two years in jail
since then it was release and more jail, jail, jail, the only thing good in this monster is
the mail, mail, mail.